Embark on a journey through the dynamic landscape of affiliate marketing as we unveil the leading solutions that redefine success for businesses.
In this exploration of the 'Top Affiliate Marketing Software,' we delve into the innovative platforms reshaping the affiliate marketing industry, empowering businesses to elevate their strategies and maximize revenue potential.
Join us as we shine a spotlight on the tools revolutionizing affiliate marketing, fostering growth, and driving unparalleled success in the digital era.
Top 5 Affiliate Marketing Software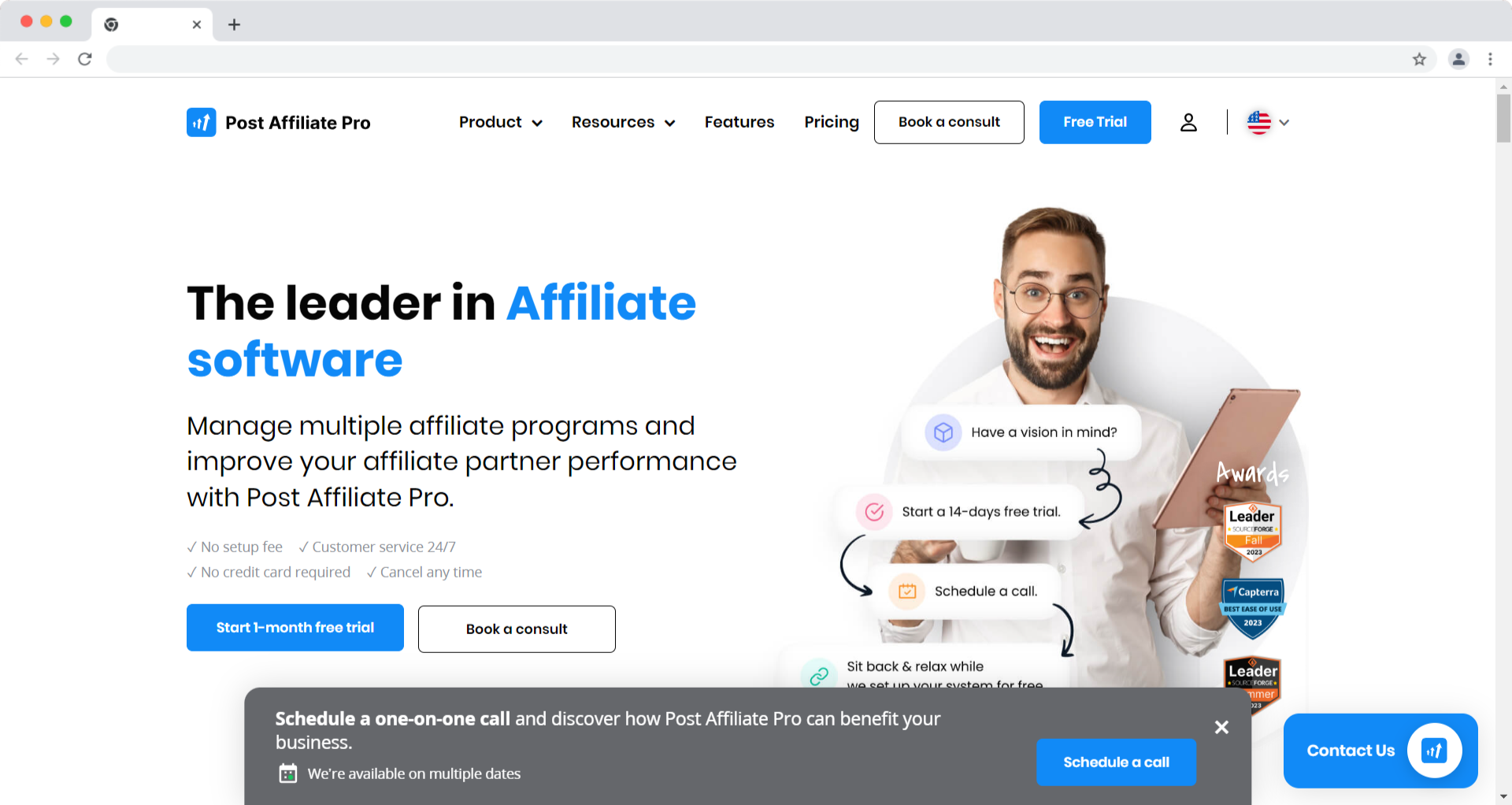 Post Affiliate Pro is a comprehensive affiliate software that is designed to help businesses run successful affiliate programs.
It offers a host of powerful features and benefits that make managing an affiliate program seamless and efficient.
One of the key features of Post Affiliate Pro is its ability to automate various processes, thereby saving time and effort for merchants.
Pricing
Essential Plan: $129 per month
Designed for small to medium-sized businesses
Inclusive of essential features for a successful affiliate program
Premium Plan: $229 per month
Ideal for businesses seeking advanced features
Includes multi-level marketing, advanced reports, and API access
Ultimate Plan: $299 per month
Comprehensive package with features from the Premium plan
Additional benefits: personalized onboarding and priority support
Free Trial Feature:
Experience full access to all features
Allows businesses to assess suitability before committing to a plan
Features And Benefits
Intuitive Interface for Seamless User Experience

Ensures easy navigation and utilization of functionalities

Automation for Effortless Affiliate Program Management

Simplifies tracking, commission management, and affiliate communication
Saves valuable time and resources

Dual Access Panels for Merchants and Affiliates

Merchant Panel:

Provides insights into crucial metrics (performance, sales, conversions)

Affiliate Panel:

Allows affiliates to view earnings, access promotional materials, and monitor performance

Scalability for Growing Businesses

Adaptable to evolving business needs
Enables onboarding of an unlimited number of affiliates without compromising performance

Effective Affiliate Program Operation

Comprehensive set of features:

Accurate tracking
Reliable reporting
Fraud protection
Various payment options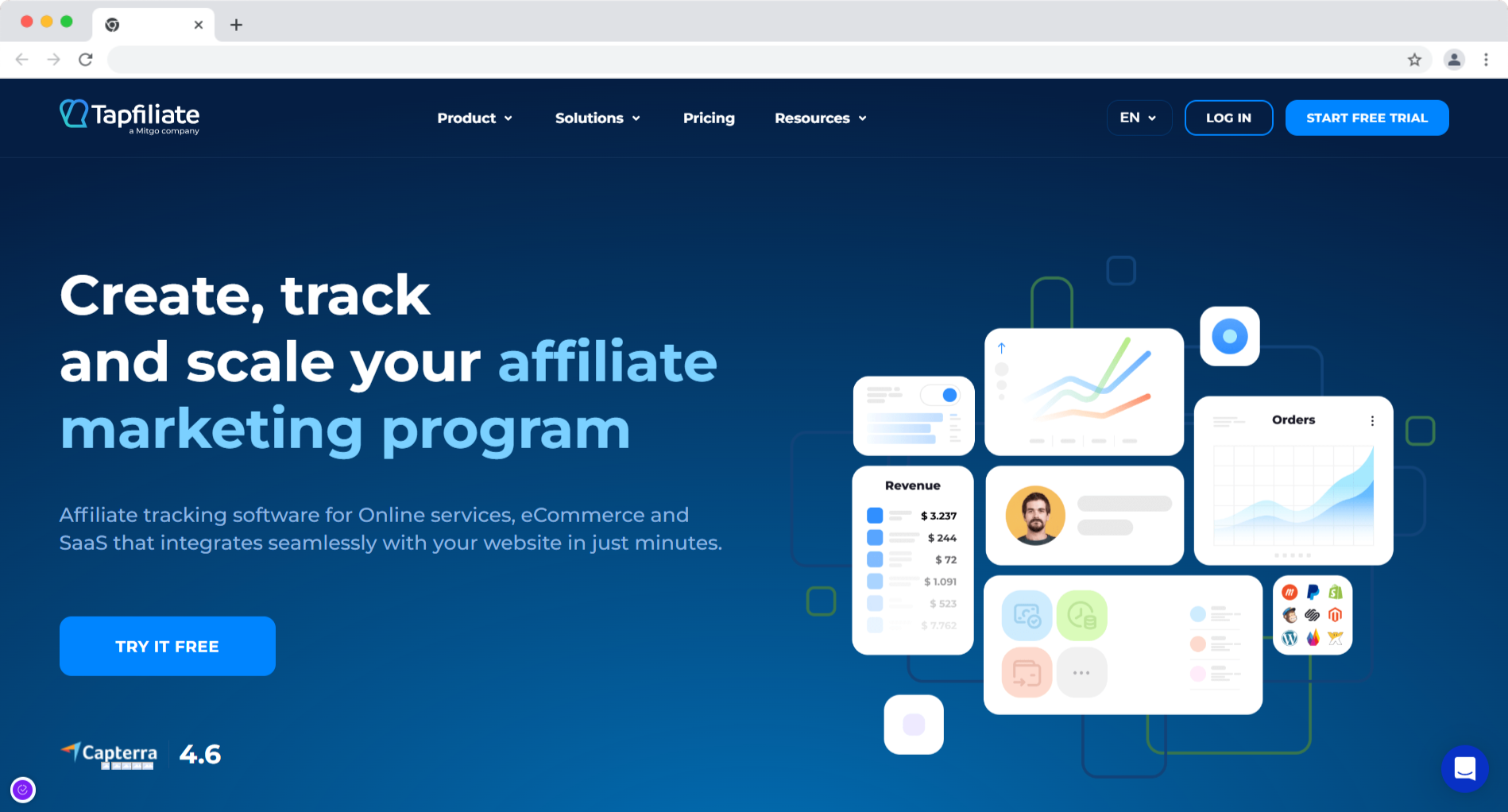 Tapfiliate is an affiliate marketing software that helps businesses track, manage, and optimize their affiliate programs.
With its user-friendly interface and advanced features, Tapfiliate has become a leading choice for businesses looking to expand their online presence through affiliate marketing.
Tapfiliate offers a wide range of features to simplify the affiliate marketing process. It provides businesses with the tools to create custom affiliate programs, track affiliate sales and commissions, and manage payouts effortlessly.
The platform also offers a variety of integration options, making it compatible with popular e-commerce platforms and marketing tools.
Pricing
Straightforward and Flexible Pricing

Available at a range of $89-$149 per month
Accommodates diverse user needs and budget constraints

Free Trial Option for Informed Decision-Making

Allows users to test features and functionalities
Assists in evaluating the software's suitability before committing to a paid plan

Enterprise Plan for Larger Organizations

Tailored to meet the demands of bigger companies
Offers advanced features and high customization
Custom pricing based on specific business requirements

Inclusive for Businesses of All Sizes

Affordable monthly plans cater to startups and small businesses
Enterprise plans address the needs of larger enterprises
Features And Benefits
Intuitive Dashboard:
Feature: User-friendly interface for easy navigation.
Benefit: Simplifies program management, providing a seamless experience for users.
Affiliate Tracking:
Feature: Accurate tracking of clicks, conversions, and sales.
Benefit: Enables businesses to monitor affiliate performance and measure the success of campaigns.
Multi-level Marketing:
Feature: Supports multi-level marketing structures.
Benefit: Allows businesses to create tiered commission structures, incentivizing affiliates to recruit other affiliates.
Advanced Reports:
Feature: Detailed reporting on key metrics like conversions and revenue.
Benefit: Provides actionable insights, allowing businesses to make informed decisions for program optimization.
API Access:
Feature: API availability for integration with other systems.
Benefit: Enhances flexibility and customization, enabling seamless integration with existing business processes.
Flexible Pricing Model:
Feature: Various pricing plans to accommodate different business needs.
Benefit: Allows businesses to choose a plan that aligns with their budget and requirements.
Free Trial:
Feature: Offers a free trial for users to test the platform's functionality.
Benefit: Allows businesses to explore and evaluate Tapfiliate before committing to a paid plan.
Personalized Onboarding (Ultimate Plan):
Feature: Personalized onboarding for users on the Ultimate plan.
Benefit: Ensures a smooth and customized setup, helping businesses maximize the platform's potential.
Priority Support (Ultimate Plan):
Feature: Priority support for users on the Ultimate plan.
Benefit: Offers dedicated assistance and faster response times for critical issues.
Fraud Detection:
Feature: Includes features for fraud detection.
Benefit: Enhances program security by identifying and preventing fraudulent activities.
Payment Options:
Feature: Provides various payment options for affiliates.
Benefit: Increases flexibility for affiliates, contributing to a positive affiliate experience.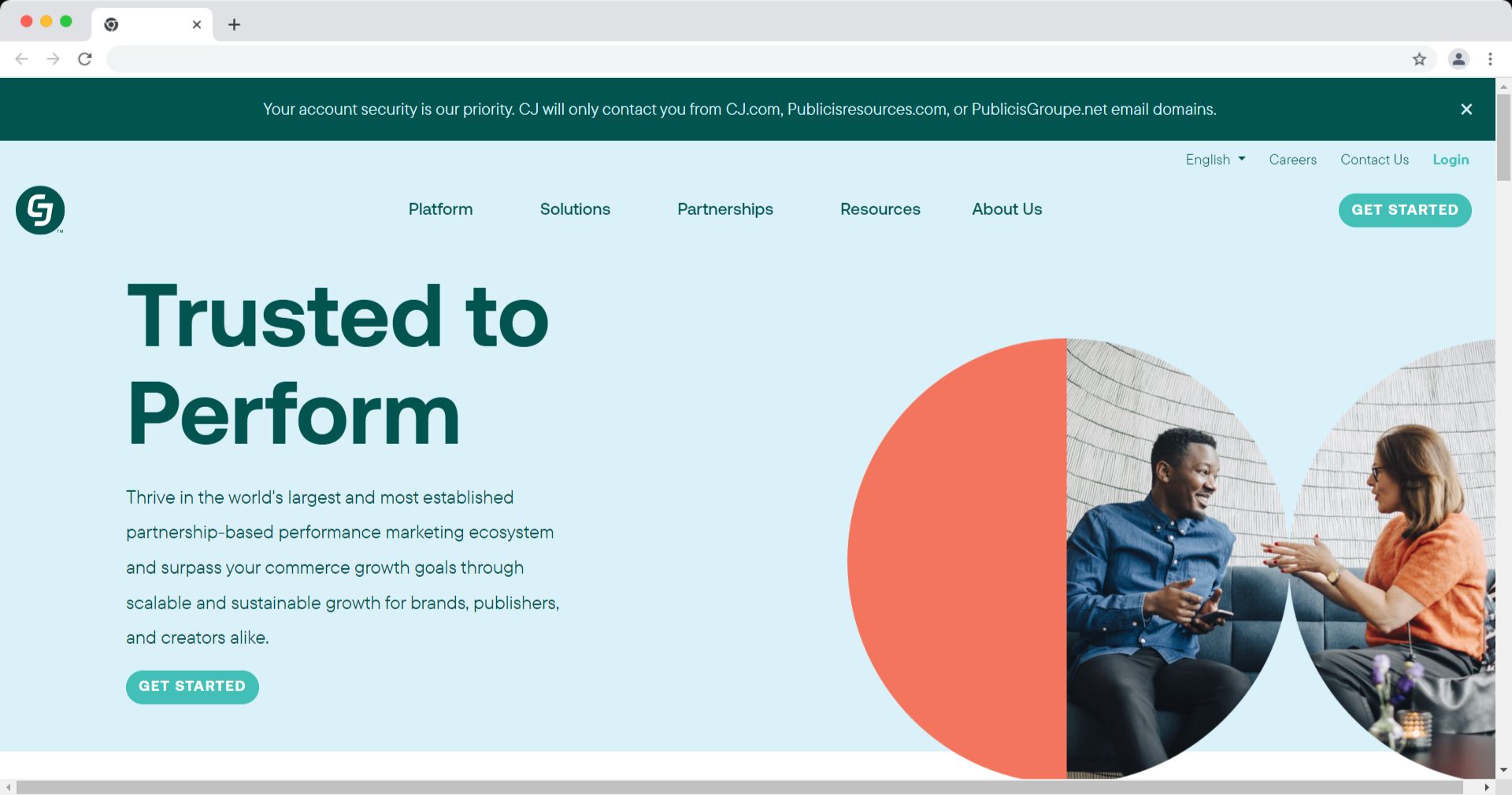 CJ Affiliate, formerly known as Commission Junction, is a globally recognized affiliate marketing network that connects advertisers and publishers, facilitating mutually beneficial partnerships in the digital marketing landscape.
As one of the industry's pioneers, CJ Affiliate has played a pivotal role in shaping the affiliate marketing ecosystem.
Pricing
Performance-Based Model:
Advertisers pay publishers based on predefined actions (clicks, leads, sales).
CJ Affiliate earns a commission on transactions facilitated through the platform.
No Upfront Fees:
Participation in the CJ Affiliate network typically does not involve upfront fees.
Commission Negotiation:
Advertisers and publishers negotiate commission structures individually.
CJ Affiliate takes a percentage of the total commission earned by the publisher.
Dynamic Pricing:
The specific terms, rates, and commission percentages can vary based on individual agreements.
Changes Over Time:
Pricing structures and models may evolve, and new features could be introduced.
Features And Benefits
Diverse Brand Partnerships for Targeted Campaigns
Extensive network featuring well-known brands across various industries
Enables marketers to align partnerships with target audience and campaign goals
Privacy Compliance for Consumer Trust and Legal Assurance
Commitment to data protection in response to growing consumer privacy concerns
Ensures legal requirements are met, minimizing regulatory risks for marketers
Builds trust between brands and consumers
Campaign Management Excellence
User-friendly interface and robust tracking tools
Real-time data on performance metrics for effective campaign management
Empowers marketers to optimize strategies for maximum results
Success Stories: Dell's Significant Growth
Showcase of CJ Affiliate's impact on brands, exemplified by Dell's success
Substantial revenue growth and increased brand visibility through CJ Affiliate
Platform's ability to connect brands with relevant publishers and influencers for targeted traffic and boosted sales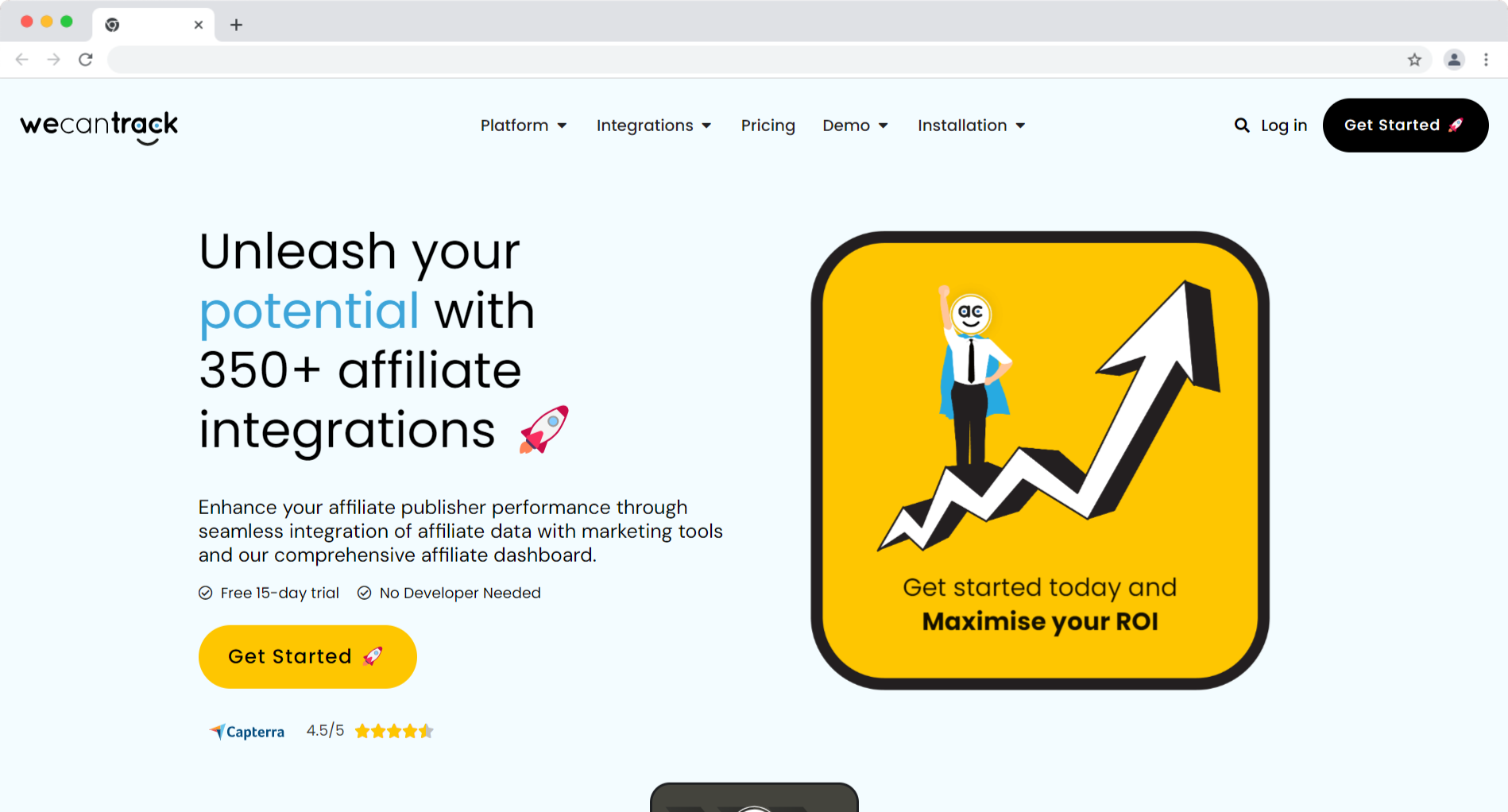 WeCanTrack is a comprehensive affiliate tracking platform that offers a wide range of key features to help businesses optimize their marketing campaigns.
One of its standout features is its single dashboard, which allows users to track all their affiliate data in one place. This makes it easier to monitor and analyze performance across multiple channels.
In addition to this, WeCanTrack also offers advanced features like automatic link cloaking. This helps protect affiliate links from being tampered with or stolen, ensuring that users receive proper credit for their referrals.
Pricing
Flexible Pricing Tiers
Basic, Pro, and Enterprise options cater to various user needs
Basic tier for individual users and small teams
Pro tier for growing businesses with additional features
Enterprise tier for larger organizations with advanced requirements
Payment Options for Convenience
Monthly and annual payment options available
Annual plans often offer cost-saving advantages with discounted rates
Transparent and No Hidden Fees
Clear pricing structure with no hidden charges
Users can access all features included in their chosen tier without additional costs
Free Trial for Exploration
Users can explore the platform's capabilities with a free trial before committing to a paid plan
Enables informed decision-making based on firsthand experience
Simplicity in Subscription Management
Once subscribed to a tier, users gain access to all features without complexity
No unexpected charges post-subscription
Features And Benefits
Accurate Tracking for Real-Time Performance Insights
Real-time tracking of clicks, sales, and customer data
Empowers businesses to monitor affiliate campaign performance with precision
Advanced Reporting System for In-Depth Analytics
Detailed reports on revenue, conversion rates, and customer demographics
Provides insights, identifies trends, and highlights areas for improvement
Intuitive Dashboard for Quick Performance Analysis
User-friendly interface for swift analysis of affiliate program performance
Facilitates informed decision-making based on real-time data
Automation Features for Efficient Affiliate Management
Automated payouts, fraud detection, and performance-based commission structures
Streamlines affiliate management processes, saving time and ensuring accuracy
Maximizing Affiliate Marketing Efforts
Accurate tracking facilitates real-time optimization for better ROI
Businesses can identify top-performing affiliates and optimize marketing strategies
Valuable Insights and Data-Driven Decisions
Advanced reporting and analytics features provide valuable insights
Enables businesses to make informed, data-driven decisions for continuous improvement
Time-Saving Automation for Operational Focus
Streamlined processes through automation save businesses time
Allows businesses to focus on core operations while ensuring efficient affiliate management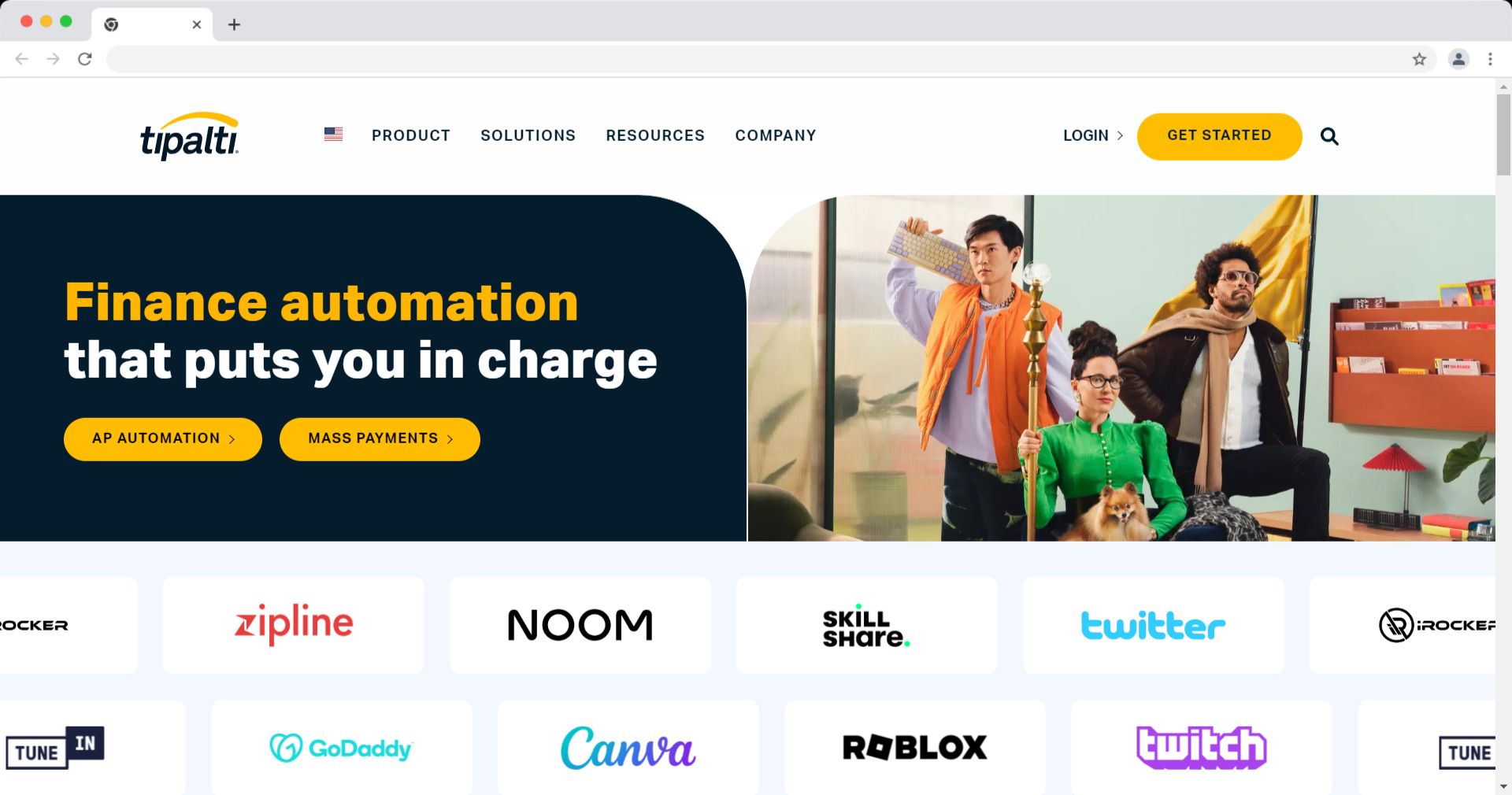 Tipalti is a leading payment automation platform that aims to simplify the global payables process for businesses.
It streamlines and automates various aspects of the payment process, offering a comprehensive solution to handle supplier onboarding, invoice processing, tax compliance, global payment remittance, and payment reconciliation.
One of its key features is supplier onboarding, which allows businesses to efficiently onboard new suppliers and collect their payment details securely.
Pricing
Starter Plan:
Ideal for small businesses
Pricing based on the number of payees, transactions, and annual payment volumes
Pro Plan:
Designed for mid-sized companies
Pricing varies based on usage metrics such as payees, transactions, and annual payment volumes
Enterprise Plan:
Caters to larger organizations with complex payment requirements
Customized pricing based on specific business needs and usage metrics
Key Features Included:
Automated payment processes
Tax Compliance
Global payments
Supplier onboarding
Payment reconciliation
Additional Fees:
Implementation costs
International wire transfer fees
Potential customization fees for specific integrations or advanced features
Transparent Pricing:
Clearly defined costs for subscription plans
Additional fees outlined for specific services
Features And Benefits
Automated Payment Reconciliation:
Eliminates manual processes for accurate payment matching with invoices
Reduces errors and saves valuable time
Provides real-time visibility into payment statuses for effective tracking
Tax Compliance Made Effortless:
Automatically calculates tax withholdings
Manages tax remittances to ensure compliance with local tax laws
Reduces the risk of penalties and fines, easing the administrative burden
Customizable Payment Options:
Offers flexibility with customizable payment methods
Enables businesses to accommodate the preferences and needs of vendors or affiliates
Enhances the overall payment experience for payees
Real-time Payment Tracking:
Allows businesses to monitor payment progress from initiation to completion
Enhances transparency and control over payment processes
Enables prompt resolution of any payment issues
Efficiency and Time Savings:
Streamlines global payment processes for enhanced efficiency
Minimizes manual workload, freeing up resources for strategic initiatives
Improves overall financial operations for businesses
Enhanced Visibility and Control:
Real-time insights into payment activities and statuses
Empowers businesses to make informed decisions and address issues promptly
Improves overall management of financial operations
Final Thoughts
Selecting the best affiliate tracking software for affiliate marketing requires considering several key factors.
Affordability plays a crucial role in ensuring that the software fits within the marketing budget.
Therefore, it is recommended to prioritize options that offer affordable pricing plans or even free or open-source alternatives.
Features like email notifications and reporting are essential for effective affiliate marketing.
Email notifications enable affiliates to stay informed about their performance and keep track of any updates or changes.
It is crucial to prioritize affordability, consider free or open-source options, ensure the inclusion of features like email notifications and reporting, and focus on maximizing conversions and revenue.